On Monday, 26th June, Basket Friends, the first youth basketball camp in Novi Becej, was opened! 
This year's camp will work two shifts  during 18 days. The first part will last 9 days as well as the second part.
The first shift is reserved for primary school children from Novi Becej municipality. They will be divided into several groups, have all sorts of training with professional coaches and play matches between themselves.
The second shift is reserved for boys and girls from Iran, Romania, Cyprus, Hungary and other countries. Detailed program and activities are also arranged for them as they were for the first shift. The program is designed so that as many activities as possible are done outdoor, on the open basketball court next to the river bank, in the fresh air and beautiful surrounding.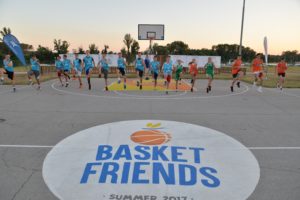 Zlatko Jovanovic, the chief organizer and creator of camp, made a speech in front of the gathered participants, coaches and viewers who came to watch the activities on the first day of camp. Visibly pleased, he explained the motive that sparked him to get into this story:
"I organized and crated this camp because I felt duty to return everything that basketball has given me. That was the reason to make all of this, for children, so they can have a chance to practice and learn something new, to achieve the career and reach the top in basketball."
The first day went by in a positive atmosphere to the general satisfaction of the present and in the following days, more intense training is in front of us and friendship, of course. For one of our goals, beside the sports education and training, is connecting young athletes across the country and the whole world.